Rooms
Each Guest Room at The Majestic Hotel exhibits a different and unique design. We assure that our regulars are not bored by the same decor each time they arrive and in-case they prefer a particular room, it is blocked at their behest to ensure the personalised touch that we provide.
Premium Charm:
As the name suggests, our premium rooms are an upgrade from the norm and a come equipped with the LED Tvs and a Mini-Fridge in addition to our other room amenities (Wi-Fi, Acs, Digital Cable, Bathroom amenities, etc). These rooms are designed to give our guests a fresher feel and a sense of granduer while enjoying their stay with us in Shillong.
BOOK NOW!
Suites:
The Suites rooms are for guest who would not mind spoiling themselves for more space and comfort or simply wish to experience the best at The Majestic has to offer.
BOOK NOW!
Executive Rooms: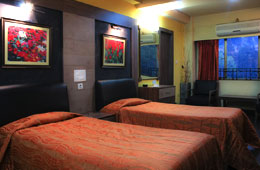 Our Executive Rooms are ideal for guests wanting a mix of luxury, comfort, facilities and budget.
BOOK NOW!
Excellent, comfortable stay, a lot of help from staff, service very good!

Dr. Mohan Gopinath ( Deputy General manager Medical, Indian Rare Earths Ltd.)
Absolutely appreciate the warmth and hospitality extended to us. It will always make us want to come back and stay here everytime we are in shillong. Cheers and always the best!

Mr. Premankur Barua (Manager Bengaluru Footbal Club)
Sweet............Keep it up!

Mr. Zubeen Garg – Regional and Bollywood Singer
Very comfortable stay, great team of staffs charmed with their warmth, homely service also makes it feel homely!

Mr. Kiren Rijiju (BJP National Secretary and Member of Parliament)
Good location, fine hospitality, pleasant reception with best wishes

Honorable Shri. Rajendra Arlekar (Speaker , Goa Legislative Assembly)
With best wishes & love, Thanks for the lovely time & I will always remember & for sure will be back

Mr. Derrick Pereira (Coach Salgaocar Football Club)
It's always a delight visiting Shillong. I am very happy this time accepting the hospitality of Hotel Majestic. I am greatly impressed by the maintenance and service of this hotel. My hearty compliments and thanks to the management and staff!

Mr. L.K. Advani (Member of Parliament)
The candle light dinner arrangements was awesome. The people are helpful & friendly and that to me makes a place special!

Mr. & Mrs. Debayan Ganguly, First time guests
Lovely service, Beautiful ambience. Thankyou for making my visit memorable, Best Wishes!

Smti. Smriti Irani (Union Minister for Human resource Development)